We've all experienced the frustration of trying to clear our driveways and sidewalks after a heavy snowfall. Shovels can be tedious and time-consuming, and snow blowers are often bulky and expensive. But what if there was a simpler solution right in your garage? That's right, we're talking about your trusty leaf blower. But can it really be used to blow snow? In this article, we'll explore the possibilities and considerations of utilizing this versatile tool to make your winter cleanup a breeze.
Can Leaf Blowers Be Used To Blow Snow?
This image is property of www.leafblowersdirect.com.
Introduction
When it comes to clearing snow from our driveways, pathways, or other outdoor spaces, we often think of traditional snow blowers or shovels as the go-to tools for the job. However, have you ever wondered if leaf blowers can also be used to tackle the task of blowing snow? In this article, we will explore the possibility of using leaf blowers for snow removal, discussing the different types of leaf blowers available, considerations for blowing snow, techniques to effectively clear snow, and the advantages and disadvantages of utilizing leaf blowers for this purpose.
Types of Leaf Blowers
Leaf blowers come in three main types: electric, battery-powered, and gas-powered. Electric leaf blowers are typically corded and require an electrical outlet to function, while battery-powered leaf blowers offer more mobility as they are not tethered to a cord. Gas-powered leaf blowers, on the other hand, provide the greatest power and mobility. Depending on the volume of snow you need to clear, the type of leaf blower you choose may vary.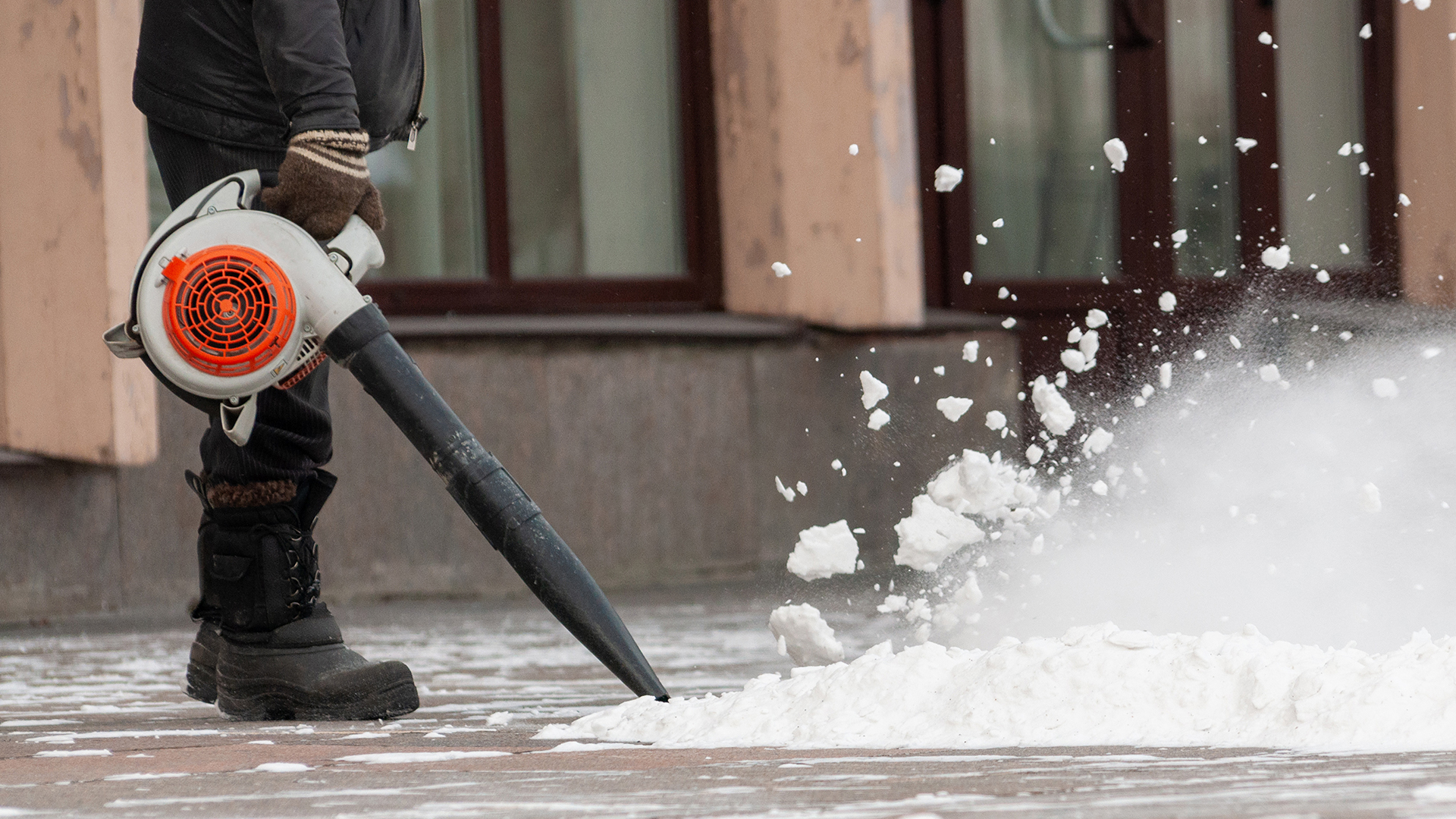 This image is property of cdn.mos.cms.futurecdn.net.
Considerations for Blowing Snow
Before using a leaf blower to blow snow, there are a few essential factors to consider. Firstly, it is crucial to assess the thickness and density of the snow. Light, fluffy snow is generally easier to clear with a leaf blower, while heavy, wet snow may require more powerful equipment. Additionally, the surface on which the snow is accumulated must be considered. Leaf blowers can effectively clear snow from a variety of surfaces, including smooth pavement, gravel, grass, and even wooden decks, but the technique and precautions may vary.
Leaf Blower Power
The power of a leaf blower is typically measured in cubic feet per minute (CFM) and miles per hour (MPH). Higher CFM and MPH ratings indicate greater blowing power. When it comes to blowing snow, a leaf blower with higher CFM and MPH ratings can be advantageous, as it will generate a more forceful stream of air, enabling better clearance of snow. However, it is essential to strike a balance between power and maneuverability, as excessively powerful blowers may be overly cumbersome or create a mess by scattering the snow too widely.
This image is property of www.capecodtimes.com.
Air Speed and Volume
Apart from the overall power, the airspeed and volume of the leaf blower also play a crucial role in effectively clearing snow. Higher airspeed ensures that the snow is blown off the surface, while a higher volume of air helps in covering a larger area. Finding the right balance between airspeed and volume is essential to avoid unnecessary wastage of power and to achieve optimal efficiency in snow removal.
Snow Density and Thickness
The density and thickness of the snow directly impact the effectiveness of using a leaf blower. Light and powdery snow can often be blown away effortlessly, making a leaf blower an ideal tool for the job. On the other hand, heavy and wet snow may require a more robust blower with higher power and air volume. It is crucial to assess the snow's density and thickness before deciding whether a leaf blower can effectively clear it.
This image is property of i.ytimg.com.
Blowing Techniques
To efficiently clear snow using a leaf blower, employing the right blowing techniques is essential. When beginning, it is advisable to start from the center of the area and work your way out in even, overlapping arcs. By directing the airflow at an angle, you can effectively move the snow to the desired location. Additionally, adjusting the height and angle of the nozzle can help control the distance and direction of the blown snow, making it easier to achieve a clean and tidy clearance.
Clearing Snow on Different Surfaces
One of the advantages of using leaf blowers for snow removal is their versatility in clearing snow from various surfaces. Whether it's a paved driveway, a gravel pathway, or a fragile wooden deck, leaf blowers can be adjusted to accommodate different surfaces. It is important to adjust the blowing technique, speed, and distance from the surface to prevent any damage. Care should also be taken when blowing snow from uneven surfaces to avoid accidental tripping or injuries.
This image is property of anestwithayard.com.
Advantages of Using Leaf Blowers for Snow Removal
Using leaf blowers for snow removal offers several advantages. Firstly, they are versatile tools that can be used for both clearing leaves during the autumn months and snow during the winter season. This eliminates the need for separate equipment and saves both space and money. Additionally, leaf blowers are generally lighter and easier to maneuver compared to traditional snow blowers, making them ideal for individuals who may have difficulty handling bulkier machinery. Furthermore, leaf blowers are generally quieter than snow blowers, allowing for a more peaceful snow clearing experience.
Disadvantages of Using Leaf Blowers for Snow Removal
While leaf blowers have their advantages, there are also some notable disadvantages to consider. One limitation is that leaf blowers may not be as effective on heavy, wet snow or ice, requiring more powerful equipment. Additionally, leaf blowers can blow the snow in all directions, potentially causing it to scatter and create a mess. Care must be taken to ensure the snow is blown away from desired areas and not into adjacent spaces. Moreover, the limited battery life or the need for a power source with electric blowers may restrict the amount of time or area that can be cleared in one session.
Conclusion
In conclusion, leaf blowers can indeed be used to blow snow, provided certain considerations are accounted for. The type of leaf blower, its power, airspeed, and volume ratings, as well as the density and thickness of the snow, are all essential factors to consider before embarking on snow removal. By employing proper blowing techniques and adjusting the blower settings accordingly, leaf blowers can effectively clear snow from a variety of surfaces. Despite some limitations, the versatility, maneuverability, and convenience of leaf blowers make them a viable option for snow removal, offering an alternative to traditional snow blowers and shovels. So, next time you need to tackle that winter wonderland in your yard, consider putting your leaf blower to good use and enjoy the efficiency and ease it brings to the task.